Course Description
This course provided information possible etiologies of dysphagia following various cardiothoracic surgeries and how to best evaluate these patients to provide them with best possible care.
Objectives
Following this course, participants will be able to:
1. List the possible etiologies of dysphagia following cardiothoracic surgery.
2. Compare and contrast dysphagia evaluation methods (clinical evaluation, videofluoroscopic swallow study and fiberoptic endoscopic evaluation of swallowing) for patients who have undergone cardiothoracic surgery.
3. Describe specific dysphagia considerations for post-operative lung transplant patients.
Method of Participation
The estimated time to complete this online activity and exam is 1 hour(s). To receive credit, a passing grade of 100% is required on a short online quiz. You will have opportunities to retake the quiz to achieve a passing score. After you have completed your exam and evaluation you will be able to automatically print your credit letter.
Credit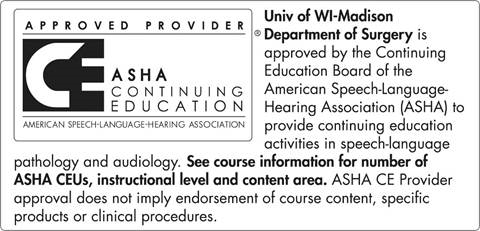 Intermediate level, 0.10 ASHA CEs
Faculty
Stevie Marvin, MS, CCC-SLP, BCS-S

Faculty Disclosure
In compliance with requirements of ASHA's Continuing Education Board concerning transparency in course planning, delivery and marketing, below is information of speakers' financial and non-financial interests relevant to the content of their presentations.
Instructional Personnel/Guest Speakers
Lecturer: Stevie Marvin, MS, CCC-SLP, BCS-S
Financial disclosures: UW Health – Salary – employment
Non-financial disclosures: None
Commercial Support
There is no commercial support for this activity.
Computer Requirements
Free, current version of Internet Explorer, Firefox, Safari or Chrome. Some older browsers could produce error messages or not display the content correctly.
Privacy Policy
We respect your privacy and will not share your information with other organizations or businesses except as required to maintain accreditation.
Copyright
Copyright © 2023 The University of Wisconsin Board of Regents
Back to List