Course Description
This course provided information on vocal motor control mechanisms in voice disorders and various means to objectively measure and quantify these disorders.
Objectives
1) Identify the importance of neurocomputational models as a tool to study vocal motor control mechanisms in voice disorders with neurological/ biomechanical origins.
2) List the components of vocal motor control and sensorimotor measures than can be used to objectively quantify each control mechanism.
3) Interpret vocal motor control based on LaDIVA neurocomputational model
Method of Participation
The estimated time to complete this online activity and exam is 1 hour(s). To receive credit, a passing grade of 100% is required on a short online quiz. You will have opportunities to retake the quiz to achieve a passing score. After you have completed your exam and evaluation you will be able to automatically print your credit letter.
Credit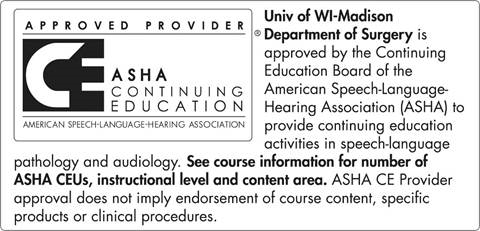 Intermediate Level
0.10 ASHA CE
Faculty
Hasini Weerathunge, MS

Faculty Disclosure
In compliance with requirements of ASHA's Continuing Education Board concerning transparency in course planning, delivery and marketing, below is information of speakers' financial and non-financial interests relevant to the content of their presentations.
Instructional Personnel/Guest Speakers
Moderator: Amy Baillies, MS, CCC-SLP, BCS-S
Financial disclosures: UW Health– employment
Non-financial disclosures: None
Lecturers:
Hasini Weerathunge, MS
Financial disclosures: None
Non-financial disclosures: None
Commercial Support
There is no commercial support for this activity.
Computer Requirements
Free, current version of Internet Explorer, Firefox, Safari or Chrome. Some older browsers could produce error messages or not display the content correctly.
Privacy Policy
We respect your privacy and will not share your information with other organizations or businesses except as required to maintain accreditation.
Copyright
Copyright © 2023 The University of Wisconsin Board of Regents
Back to List