Course Description
This course provided a comprehensive review of relevant literature pertaining to telemedicine and dysphagia. Participants were educated regarding best practice patterns and future directions in telemedicine and dysphagia management.
Objectives
After completion of this program, participants will be able to:
o Identify the contemporary research evidence available for the use of telehealth for dysphagia management
o Describe best practices in using telehealth for dysphagia management
o Identify future directions and the role of wearable technologies in dysphagia tele-management
Method of Participation
The estimated time to complete this online activity and exam is 1 hour(s). To receive credit, a passing grade of 100% is required on a short online quiz. You will have opportunities to retake the quiz to achieve a passing score. After you have completed your exam and evaluation you will be able to automatically print your credit letter.
Credit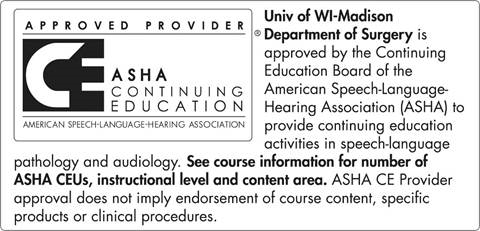 This activity is offered for 0.10 ASHA CEUs
(Intermediate level, Professional area).
Faculty
Georgia Malandraki, PhD, CCC-SLP, BCS-S

Faculty Disclosure
In compliance with requirements of ASHA's Continuing Education Board concerning transparency in course planning, delivery and marketing, below is information of speakers' financial and non-financial interests relevant to the content of their presentations.
Instructional Personnel/Guest Speakers
Georgia Malandraki, PhD, CCC-SLP, BCS-S
Financial disclosures:
Purdue University – salary
Purdue Research Foundation – grants
National Institutes for Health – grants and research activities
Start-up Company – Intellectual property rights
Non-financial disclosures:
Dysphagia Research Society – Board Member – President – Elect
Indiana Speech Language Hearing Association – Co-chair of ISHA Telehealth Task Force
Commercial Support
There is no commercial support for this activity.
Computer Requirements
Free, current version of Internet Explorer, Firefox, Safari or Chrome. Some older browsers could produce error messages or not display the content correctly.
Privacy Policy
We respect your privacy and will not share your information with other organizations or businesses except as required to maintain accreditation.
Copyright
Copyright © 2022 The University of Wisconsin Board of Regents
Back to List