Course Description
This course provided the components of a gold-standard voice evaluation. Participants were educated regarding approaches to voice evaluation and use of telemedicine and the implications it can have on completing a thorough voice assessment.
Objectives
1. Describe the components of a gold-standard voice evaluation and the evidence base for
which components are appropriate for telepractice.
2. Explain the changes to voice production caused by telecommunication.
3. Discuss the evidence for and against use of sidetone amplification during
telecommunication.
Method of Participation
The estimated time to complete this online activity and exam is 1 hour(s). To receive credit, a passing grade of 100% is required on a short online quiz. You will have opportunities to retake the quiz to achieve a passing score. After you have completed your exam and evaluation you will be able to automatically print your credit letter.
Credit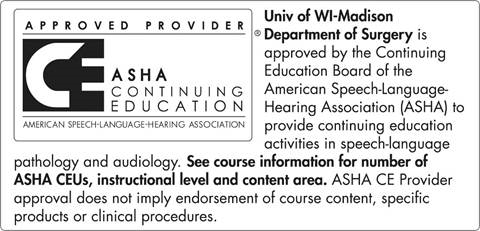 This activity is offered for 0.10 ASHA CEUs
(Intermediate level, Professional area).
Faculty
Cara Stepp, PhD, CCC-SLP

Faculty Disclosure
In compliance with requirements of ASHA's Continuing Education Board concerning transparency in course planning, delivery and marketing, below is information of speakers' financial and non-financial interests relevant to the content of their presentations.
Instructional Personnel/Guest Speakers
MODERATOR
Amy Baillies, MS, CCC-SLP, BCS-S
Financial disclosures: Employment by UW Health
Non-financial disclosures: None
___________________________________________________________________________
INSTRUCTIONAL PERSONNEL/GUEST SPEAKERS
Cara Stepp, PhD, CCC-SLP
Financial disclosures:
Consulting fee from Delsys/Altec Inc.
Non-financial disclosures: None
Commercial Support
There is no commercial support for this activity.
Computer Requirements
Free, current version of Internet Explorer, Firefox, Safari or Chrome. Some older browsers could produce error messages or not display the content correctly.
Privacy Policy
We respect your privacy and will not share your information with other organizations or businesses except as required to maintain accreditation.
Copyright
Copyright © 2022 The University of Wisconsin Board of Regents
Back to List