Course Description
This course reviewed the implications vocal hyperfunction can have on patients that are evaluated and treated by speech language pathologists in a Voice Clinic. Participants were educated regarding approaches to effective assessment and treatment of this patient population.
Objectives
1. Identify and describe the ingredients, mechanisms of action, and targets of common voice therapy approaches according to the Rehabilitation Treatment Specification System
2. Describe how the ambulatory voice monitoring could be incorporated into voice assessment for patients with vocal hyperfunction
3. Describe how the ambulatory voice monitoring could be incorporated into voice treatment for patients with vocal hyperfunction
Method of Participation
The estimated time to complete this online activity and exam is 1 hour(s). To receive credit, a passing grade of 100% is required on a short online quiz. You will have opportunities to retake the quiz to achieve a passing score. After you have completed your exam and evaluation you will be able to automatically print your credit letter.
Credit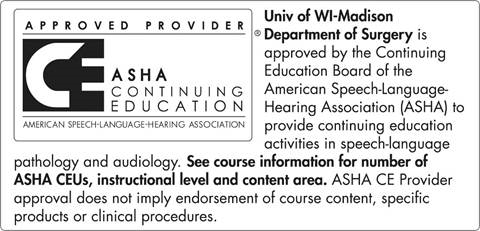 This activity is offered for 0.10 ASHA CEUs
(Intermediate level, Professional area).
Faculty
Jarrad Van Stan, PhD, CCC-SLP

Faculty Disclosure
In compliance with requirements of ASHA's Continuing Education Board concerning transparency in course planning, delivery and marketing, below is information of speakers' financial and non-financial interests relevant to the content of their presentations.
Instructional Personnel/Guest Speakers
Jarrad Van Stan, PhD, CCC-SLP
Financial disclosures:
Grants including:
-National Institute for Deafness and Other Communication Disorders (NIDCD) R21-DC016124, R33-DC011588, P50-DC015446
-National Institutes of Health Office of Behavioral and Social Sciences Research (OBSSR) R21 DC016124
-Patient-Centered Outcomes Research Institute (PCORI) ME-1403-14083
Non-financial disclosures: None
Commercial Support
There is no commercial support for this activity.
Computer Requirements
Free, current version of Internet Explorer, Firefox, Safari or Chrome. Some older browsers could produce error messages or not display the content correctly.
Privacy Policy
We respect your privacy and will not share your information with other organizations or businesses except as required to maintain accreditation.
Copyright
Copyright © 2022 The University of Wisconsin Board of Regents
Back to List